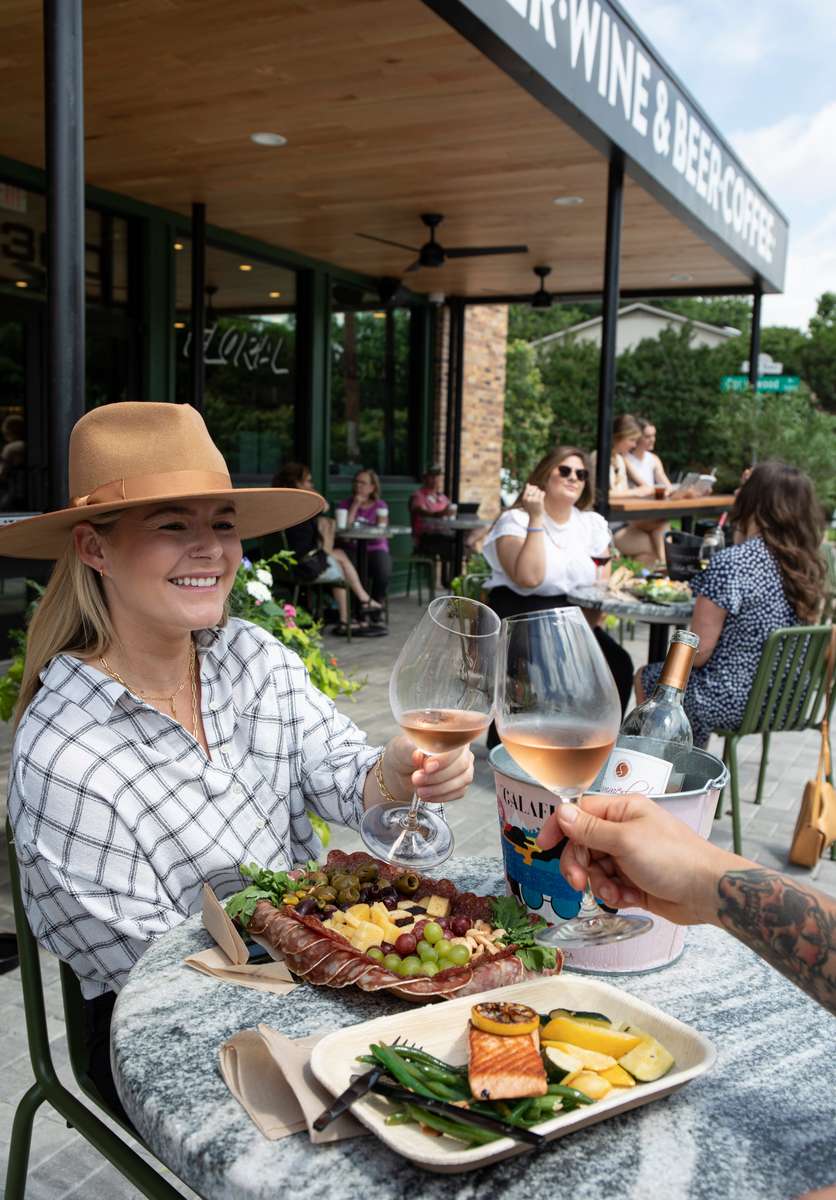 Press
For Press: To request interviews, photography, and other info, please email roypopemedia@gmail.com
FORT WORTH'S LANDMARK ROY POPE GROCERY MAKES ITS RETURN
May 2021 (Fort Worth, TX) — A new look and an updated menu of goods and services unveiled this month at Roy Pope Grocery. The west side landmark, dating from 1943, closed its doors last April — but Fort Worth's favorite neighborhood gourmet store returned to life recently under new ownership. Former owners Bob and Renee Larance found the right group to carry it forward in a new partnership: Longtime chef, restaurateur and cookbook author Lou Lambert (he owns Dutch's Hamburgers, as well as several eateries in Austin and San Antonio) and owner-operator Chris Reale (a veteran of Grace, Del Frisco's, and Lambert's, among other iconic Fort Worth places) teamed up with local real estate broker Rodger Chieffalo and developer Mark Harris to create a fresh vision for Roy Pope Grocery. The deal included the store, its name, and even its recipes — ensuring that an important legacy is preserved. (The quartet also recently acquired Paris Coffee Shop, on Fort Worth's Near Southside.)

The Roy Pope reboot is multi-faceted: While reviving some classic Roy Pope dishes (look for King Ranch chicken, mac & cheese, meatloaf), the culinary team delivers a new menu of ready-made meals, and a selection of signature salads, and sandwiches. Special features include prime rib night, pizza night, burger night, and barbecue Sunday — the latter thanks to a new, custom-made smoker/grill rig from Millscale in Lockhart, TX. 

Long loved for its butcher counter, Roy Pope Grocery continues to offer a special selection of meats, including prime beef and Certified Angus Beef, including center-cut steaks. Other meats include bone-in pork chops and house-made sausages. In grocery, find a wealth of fine products, many made in the area and around Texas. Freshly, locally baked breads and pastries are prominent, along with artisan cheeses and custom-made charcuterie boards. A significant draw is an expanded wine and beer department, overseen by a certified sommelier, Mikey Riojas, who works closely with the culinary department in devising food-and-beverage pairings for customers and creating a schedule of wine events and concierge services.

What's more, there's a coffee bar for gathering in the morning and a wine bar for enjoying afternoon glasses with snacks; a frozen custard stand with assorted toppings; a floral department; and, coming soon, a catering operation for your in-home entertaining. Also, an outdoor patio (it's dog-friendly) invites guests to relax al fresco. Architectural designer Jack Sanders — a Fort Worth native, now in Austin — created an enlarged, covered entrance by that patio on the Merrick Street side of the building. The brightened interior scheme features a clean, contemporary look with nostalgic signage, colors, and shelving design. 

Shop the store from 7 a.m. till 9 p.m. daily, 2300 Merrick Street in Fort Worth. 
Check out updates on Facebook, @roypopegroceryfortworth, and on Instagram, @roypopegroceryfw. 

For interviews, photography, and other info, please email roypopemedia@gmail.com.